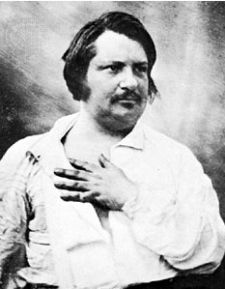 Balzac, Honore de; born May 20, 1799, Tours, France. Died August 18, 1850, Paris.
Original name Honoré Balssa French literary artist who produced a vast number of novels and short stories collectively called La Comédie humaine (The Human Comedy). He helped to establish the orthodox classical novel and is generally considered to be one of the greatest fiction writers of all time.
Balzac's father was a man of southern peasant stock who worked in the civil service for 43 years under Louis XVI and Napoleon. Honoré's mother came from a family of prosperous Parisian cloth merchants. His sister Laure (later de Surville) was his only childhood friend, and she became his first biographer.
Balzac was sent to school at the Collège des Oratoriens at Vendôme from age 8 to 14. At Napoleon's downfall his family moved from Tours to Paris, where he went to school for two more years and then spent three years as a lawyer's clerk. During this time he already aimed ata literary career, but as the writer of Cromwell (1819) and other tragic plays he was utterly unsuccessful. He then began writing novels filled with mystic and philosophical speculations before turning to the production of potboilers—gothic, humorous, historical novels—written under composite pseudonyms. Then he tried a business career as a publisher, printer, and owner of a typefoundry, but disaster soon followed. In 1828 he was narrowly saved from bankruptcy and was left with debts of more than 60,000 francs. From then on his life was to be one of mounting debts and almost incessant toil. He returned to writing with a new mastery, and his literary apprenticeship was over.
Continue reading Honore de Balzac Biography.
Honore de Balzac Short Stories
A Drama on the Seashore
A Man of Business
An Episode Under the Terror
A Passion in the Desert
A Prince of Bohemia
A Street Of Paris and Its Inhabitant
Christ in Flanders
Domestic Peace
El Verdugo
Facino Cane
Folk-Tales of Napoleon
Gaudissart II
La Grande Breteche
La Grenadiere
Madame Firmiani
Pierre Grassou
Sarrasine
Study of a Woman
The Atheist's Mass
The Elixir of Life
The Exiles
The Hidden Masterpiece
The Message
The Purse
The Recruit
The Red Inn
Z. Marcas