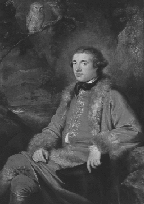 Boswell, James - born October 29, 1740, Edinburgh, Scotland
Died May 19, 1795, London, England
Friend and biographer of Samuel Johnson (Life of Johnson, 2 vol., 1791). The 20th-century publication of his journals proved him to be also one of the world's greatest diarists.
Boswell's father, Alexander Boswell, advocate and laird of Auchinleck in Ayrshire from 1749, was raised to the bench with the judicial title of Lord Auchinleck in 1754. The Boswells were anold and well-connected family, and James was subjected to the strong pressure of an ambitious family.
Boswell hated the select day school to which he was sent at age 5, and from 8 to 13 he was taught at home by tutors. From 1753 to 1758 he went through the arts course at the University of Edinburgh. Returning to the university in 1758 to study law, he became enthralled by the theatre and fell in love with a Roman Catholic actress. Lord Auchinleck thought it prudent to send him to the University of Glasgow, where he attended the lectures of Adam Smith. In the spring of 1760 he ran away to London. He was, he soon found, passionately fond of metropolitan culture, gregarious, high-spirited, sensual, and attractive to women; and London offered just the combination of gross and refined pleasures that seemed to fulfill him. At this time he contracted gonorrhea, an affliction that he was to endure many times in the course of his life.
Continue reading James Boswell's Biography.
James Boswell Books
James Boswell - Life of Johnson Abridged
James Boswell - Life of Johnson Vol_01
James Boswell - Life of Johnson Vol_02
James Boswell - Life of Johnson Vol_03
James Boswell - Life of Johnson Vol_04
James Boswell - Life of Johnson Vol_05
James Boswell - Life of Johnson Vol_06
James Boswell - The Journal of a Tour to the Hebrides