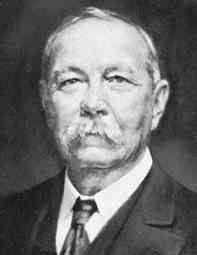 Doyle, Sir Arthur Conan (1859-1930), British physician, novelist, and detective-story writer, creator of the unforgettable master sleuth Sherlock Holmes.
Conan Doyle was born on May 22, 1859, in Edinburgh and educated at Stonyhurst College and the University of Edinburgh. From 1882 to 1890 he practiced medicine in Southsea, England. A Study in Scarlet, the first of 60 stories featuring Sherlock Holmes, appeared in 1887. The characterization of Holmes, his ability of ingenious deductive reasoning, was based on one of the author's own university professors. Equally brilliant creations are those of Holmes's foils: his friend Dr. Watson, the good-natured if bumbling narrator of the stories, and the master criminal Professor Moriarty. Conan Doyle was so immediately successful in his literary career that approximately five years later he abandoned his medical practice to devote his entire time to writing.
Some of the best known of the Holmes stories are The Sign of the Four (1890), The Adventures of Sherlock Holmes (1892), The Hound of the Baskervilles (1902), and His Last Bow (1917). They made Conan Doyle internationally famous and served to popularize the detective-story genre (Detective Story; Mystery Story). A Holmes cult arose and still flourishes, notably through clubs of devotees such as the Baker Street Irregulars. Conan Doyle's literary versatility brought him almost equal fame for his historical romances such as Micah Clarke (1888), The White Company (1890), Rodney Stone (1896), and Sir Nigel (1906), and for his play A Story of Waterloo (1894).
Conan Doyle served in the Boer War as a physician, and on his return to England wrote The Great Boer War (1900) and The War in South Africa: Its Causes and Conduct (1902), justifying England's participation. For these works he was knighted in 1902. During World War I he wrote History of the British Campaign in France and Flanders (6 volumes, 1916-20) as a tribute to British bravery. An advocate of spiritualism since the late 1880s, his lectures and writings on the subject increased markedly after the death of his eldest son in the war. His autobiography, Memories and Adventures, was published in 1924. Conan Doyle died in Crowborough, Sussex, England, on July 7, 1930.