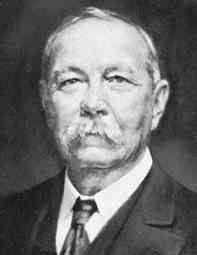 Doyle, Sir Arthur Conan (1859-1930), British physician, novelist, and detective-story writer, creator of the unforgettable master sleuth Sherlock Holmes.
Conan Doyle was born on May 22, 1859, in Edinburgh and educated at Stonyhurst College and the University of Edinburgh. From 1882 to 1890 he practiced medicine in Southsea, England. A Study in Scarlet, the first of 60 stories featuring Sherlock Holmes, appeared in 1887. The characterization of Holmes, his ability of ingenious deductive reasoning, was based on...
Continue reading Sir Arthur Conan Doyle's Biography.
Sir Arthur Conan Doyle Books
The Mystery of Sasassa Valley 1879
J. Habakuk Jephson's Statement 1883
The Mystery of Cloomber 1889
The Captain of the Polestar 1890
The Firm of Girdlestone 1890
The Doings of Raffles Haw 1891
Beyond The City 1892
Round the Red Lamp 1894
The Parasite 1894
The Stark Munro Letters 1895
Rodney Stone 1896
A Duet 1899
The Great Boer War 1900
The Adventures of Gerard 1903
Through the Magic Door 1907
The New Revelation 1918
The Vital Message 1919
Tales of Terror and Mystery 1923
A Visit to Three Fronts 1916
The Exploits of Brigadier Gerard 1896
The Green Flag 1900
The Last Galley 1911
The Tragedy of The Korosko 1898
The History of Spiritualism Vol I 1926
The History of Spiritualism Vol II 1926

Poems
Songs of Action 1898
Songs of the Road 1911
The Guards Came Through 1919
The Poems of Arthur Conan Doyle. Collected edition 1922

Historical Novels
Micah Clarke 1889
The White Company 1891
The Great Shadow and Other Napoleonic Tales 1892
The Refugees 1893
Uncle Bernac 1896
Sir Nigel 1906

Professor Challenger Books
The Lost World 1912
The Poison Belt 1913
The Land of Mist 1926
The Disintegration Machine 1927
When the World Screamed 1928

Sherlock Holmes - A Study in Scarlet 1887
Sherlock Holmes - The Sign of the Four 1890

The Adventures of Sherlock Holmes 1892
Sherlock Holmes - A Scandal in Bohemia 1891
Sherlock Holmes - The Red Headed League 1891
Sherlock Holmes - A Case of Identity 1891
Sherlock Holmes - The Boscombe Valley Mystery 1891
Sherlock Holmes - The Five Orange Pips 1891
Sherlock Holmes - The Man with the Twisted Lip 1891
Sherlock Holmes - The Adventure of the Blue Carbuncle 1892
Sherlock Holmes - The Adventure of the Speckled Band 1892
Sherlock Holmes - The Adventure of the Engineer's Thumb 1892
Sherlock Holmes - The Adventure of the Noble Bachelor 1892
Sherlock Holmes - The Adventure of the Beryl Coronet 1892
Sherlock Holmes - The Adventure of the Copper Beeches 1892

Memoirs of Sherlock Holmes 1894
Sherlock Holmes - Silver Blaze 1892
Sherlock Holmes - The Yellow Face 1893
Sherlock Holmes - The Stock Broker's Clerk 1893
Sherlock Holmes - The Gloria Scott 1893
Sherlock Holmes - The Musgrave Ritual 1893
Sherlock Holmes - The Reigate Puzzle 1893
Sherlock Holmes - The Crooked Man 1893
Sherlock Holmes - The Resident Patient 1893
Sherlock Holmes - The Greek Interpreter 1893
Sherlock Holmes - The Naval Treaty 1893
Sherlock Holmes - The Final Problem 1893

Sherlock Holmes - The Hound of the Baskervilles 1902

The Return of Sherlock Holmes 1904
Sherlock Holmes - The Adventure of the Empty House 1903
Sherlock Holmes - The Adventure of the Norwood Builder 1903
Sherlock Holmes - The Adventure of the Dancing Men 1903
Sherlock Holmes - The Adventure of the Solitary Cyclist 1903
Sherlock Holmes - The Adventure of the Priory School 1904
Sherlock Holmes - The Adventure of Black Peter 1904
Sherlock Holmes - The Adventure of Charles Augustus Milverton 1904
Sherlock Holmes - The Adventure of the Six Napoleons 1904
Sherlock Holmes - The Adventure of the Three Students 1904
Sherlock Holmes - The Adventure of the Golden Pince-Nez 1904
Sherlock Holmes - The Adventure of the Missing Three-Quarter 1904
Sherlock Holmes - The Adventure of the Abbey Grange 1904
Sherlock Holmes - The Adventure of the Second Stain 1904

Sherlock Holmes - The Valley of Fear 1904

His Last Bow 1917
Sherlock Holmes - The Adventure of Wisteria Lodge 1908
Sherlock Holmes - The Adventure of the Red Circle 1911
Sherlock Holmes - The Adventure of the Cardboard Box 1893
Sherlock Holmes - The Adventure of the Bruce-Partington Plans 1908
Sherlock Holmes - The Adventure of the Dying Detective 1913
Sherlock Holmes - The Disappearance of Lady Frances Carfax 1911
Sherlock Holmes - The Adventure of the Devil's Foot 1910
Sherlock Holmes - His Last Bow 1917

The Case Book of Sherlock Holmes 1927
The Adventure of the Illustrious Client 1924
The Adventure of the Blanched Soldier 1926
The Adventure of the Mazarin Stone 1921
The Adventure of the Three Gables 1926
The Adventure of the Sussex Vampire 1924
The Adventure of the Three Garridebs 1924
The Problem of Thor Bridge 1922
The Adventure of the Creeping Man 1923
The Adventure of the Lions Mane 1926
The Adventure of the Veiled Lodger 1927
The Adventure of Shoscombe Old Place 1927
The Adventure of the Retired Colourman 1926

Sir Arthur Conan Doyle Books in French
La Grande Ombre 1909
Nouveaux Mystères et Aventures 1910
Jim Harrison, boxeur 1910