Fate Poem : The Guards Came Through and Other Poems by Arthur Conan Doyle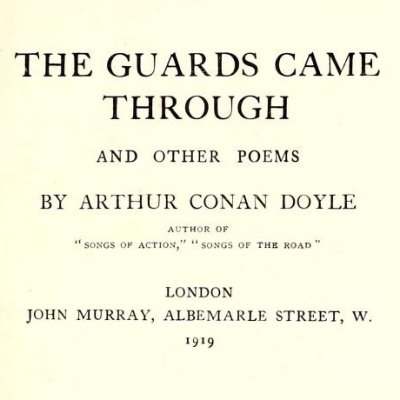 Fate Poem
by
Sir Arthur Conan Doyle
Fate Poem
I KNOW not how I know,
And yet I know.
I do not plan to go,
And yet I go.
There is some dim force propelling,
Gently guiding and compelling,
And a faint voice ever telling
"This is so."
The path is rough and black—
Dark as night—
And here lies a fairer track
In the light.
Yet I may not shirk or shrink,
For I feel the hands that link
As they guide me on the brink
Of the Height.
Bigots blame me in their wrath,
Let them blame!
Praise or blame, the fated path
Is the same.
If I droop upon my mission.
There is still that saving vision.
Iridescent and Elysian,
Tipped in flame.
It was granted me to stand
By my dead.
I have felt the vanished hand
On my head,
On my brow the vanished lips,
And I know that Death's eclipse
Is a floating veil that slips,
Or is shed.
When I heard thy well-known voice,
Son of mine.
Should I silently rejoice.
Or incline
To strike harder as a fighter.
That the heavy might be lighter.
And the gloomy might be brighter
At the sign?
Great Guide, I ask you still,
"Wherefore I?"
But if it be thy will
That I try.
Trace my pathway among men.
Show me how to strike, and when,
Take me to the fight—and then.
Oh, be nigh!
Victrix Poem
Those Others Poem
The Guards Came Through Poem
Haig Is Moving Poem
The Guns In Sussex Poem
Ypres Poem
Grousing Poem
The Volunteer Poem
The Night Patrol Poem
The Bugles Of Canada Poem
The Wreck On Loch Mcgarry Poem
The Bigot Poem
The Athabasca Trail Poem
Ragtime! Poem
Christmas In Trouble Poem
To Carlo Poem
To Ronald Ross Poem
Little Billy Poem
Take Heart Poem
Retrospect Poem
Comrades Poem
Lindisfaire Poem
Holy Grail A Parable Poem
Fate Poem
The Guards Came Through and Other Poetry