Far Away Poem by Lewis Carroll (Charles Dodgson)
Poetry from Three Sunsets and Other Poems.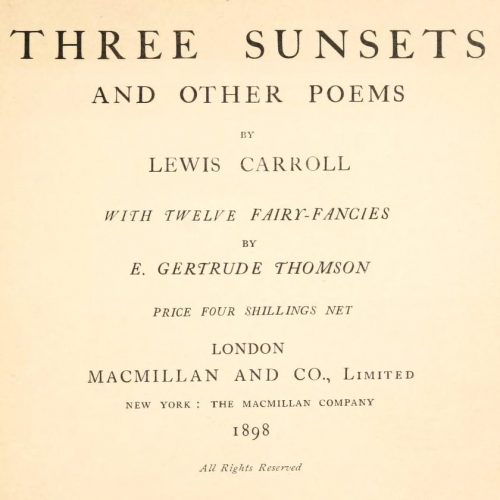 Far Away Poem
He stept so lightly to the land,
All in his manly pride:
He kissed her cheek, he clasped her hand;
Yet still she glanced aside.
"Too gay he seems," she darkly dreams,
"Too gallant and too gay,
To think of me—poor simple me—
When he is far away!"
"I bring my Love this goodly pearl
Across the seas," he said:
"A gem to deck the dearest girl
That ever sailor wed!"
She holds it tight: her eyes are bright:
Her throbbing heart would say
"He thought of me—he thought of me—
When he was far away!"
The ship has sailed into the West:
Her ocean-bird is flown:
A dull dead pain is in her breast,
And she is weak and lone:
But there's a smile upon her face,
A smile that seems to say
"He'll think of me—he'll think of me—
When he is far away!
"Though waters wide between us glide,
Our lives are warm and near:
No distance parts two faithful hearts—
Two hearts that love so dear:
And I will trust my sailor-lad,
For ever and a day,
To think of me—to think of me—
When he is far away!"
Far Away Poem End
Lewis Carroll – Three Sunsets Poem
Lewis Carroll – The Path of Roses Poem
Lewis Carroll – The Valley of The Shadow of Death Poem
Lewis Carroll – Solitude Poem
Lewis Carroll – Far Away Poem
Lewis Carroll – Beatrice Poem
Lewis Carroll – Stolen Waters Poem
Lewis Carroll – The Willow-Tree Poem
Lewis Carroll – Only A Woman's Hair Poem
Lewis Carroll – The Sailor's Wife Poem
Lewis Carroll – After Three Days Poem
Lewis Carroll – Faces in The Fire Poem
Lewis Carroll – A Lesson in Latin Poem
Lewis Carroll – Puck Lost and Found Poem
Lewis Carroll – A Song of Love Poem