Our Midnight Visitor by Arthur Conan Doyle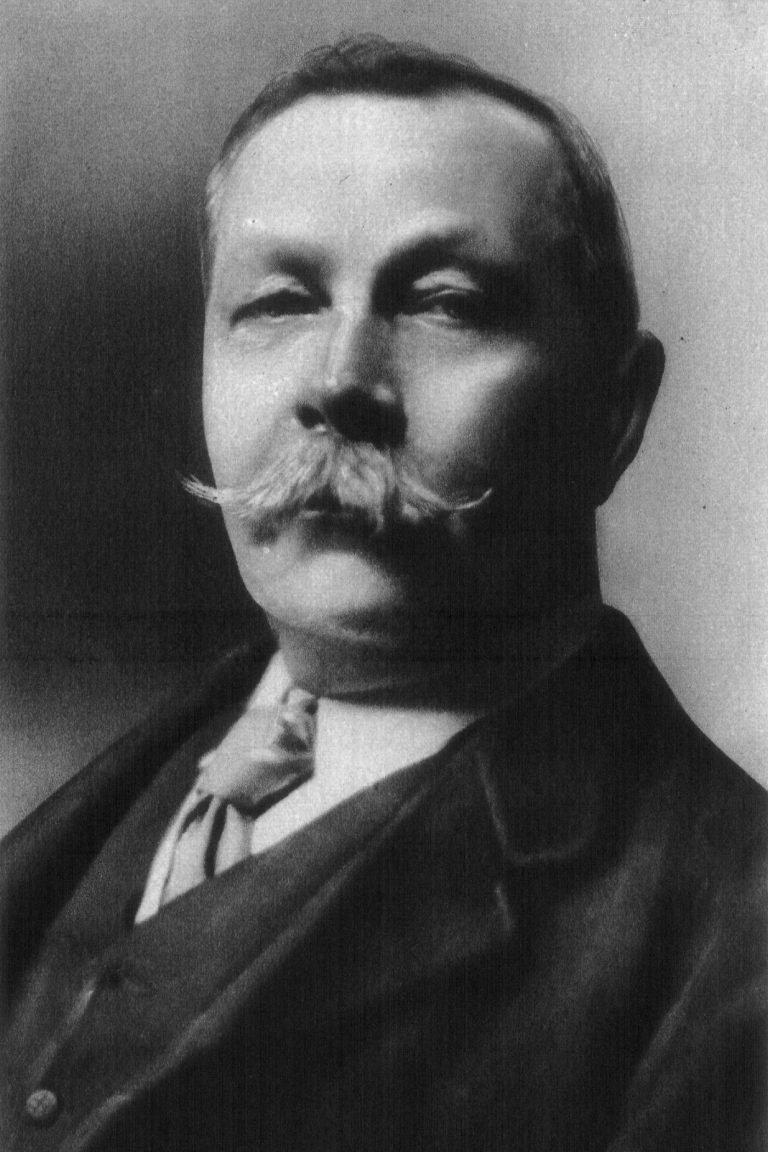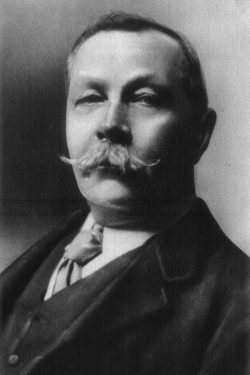 Our Midnight Visitor
by
Sir Arthur Conan Doyle
First published in Temple Bar magazine, Feb 1891
First book appearance in The Unknown Conan Doyle, 1929
Our Midnight Visitor Contents
Our Midnight Visitor I
Our Midnight Visitor II
Our Midnight Visitor III
Our Midnight Visitor IV
Our Midnight Visitor I
On the western side of the island of Arran. seldom visited, und almost unknown to tourists is the little island named Uffa. Between the two lies a strait, or roost, two miles and a half broad, with a dangerous current which sets in from the north. Even on the calmest day there are ripples and swirls and dimples on the surface of the roost, which suggest hidden influences, but when the wind blows from the west and the great Atlantic waves choke up the inlet and meet their brethren which have raced round the other side of the island, there is such seething und turmoil that old sailors say they have never seen the like. God help the boat that is caught there on such a day!
My father owned one-third part of the island of Uffa, and I was born and bred there. Our farm, or croft, was a small one enough, for if a good thrower were to pick up a stone on the shore at Carracuil (which was our place) he could manage, in three shies, to clear all our arable land, and it was hardly longer than it was broad. Behind this narrow track, on which we grew corn and potatoes. was the homesteading of Carracuil—a rather bleak-looking graystone house with a red-tiled byre buttressed against one side of it, and behind this again the barren undulating moorland stretched away up to Beg-na- sacher and Beg-na-phail, two rugged knowes which marked the centre of the island. We had grazing ground for a couple of cows and eight or ten sheep, and we had our boat anchored down in Carravoe. When the fishing failed there was more time to devote to the crops, and if the season was bad. as likely as not the herring would be thick on the coast. Taking one thing with another, a crofter in Uffa had as much chance of laying by a penny or two as most men on the mainland.
Besides our own family, the McDonalds of Carracuil, there were two others on the island. These were the Gibbs of Arden and the Fullartons of Corriemains. There was no priority claimed among us, for none had any legend of the coming of the others We had ali three held our farms by direct descent for rnany generations, paying rent to the Duke of Hamilton, and all prospering in a moderate way. My father had been enabled to send me to begin the study of medicine at the University of Glasgow, and I had attended lectures there for two Winter sessions, but, whether from caprice or from some lessening in his funds. he had recalled me, and in the year 1865 I found myself cribbed up in this little island with just education enough to wish for more, and with no associate at home but the grim, stern old man, for my mother had been dead some years, and I had neither brother nor sister.
There were two youths about my own age in the island, Geordie and Jock Gibbs, but they were rough, loutiish fellows, good-hearted enough, but with no ideas above fishing and farming. More to my taste was the society of Minnie Fullarton, the pretty daughter of old Fullarton of Corriemains. We had been children together, and it was natural that when she blossomed into a buxom, fresh-faced girl, and I into a square-shouldered, long-legged youth, there should be something warmer than friendship between us. Her elder brother was a corn chandler in Ardrossan, and was said to be doing welL so that the match was an eligible one, but for some reason my father objected very strongly to our intimacy and even forbade me entirely to meet her. I laughed at his commands, for I was a hot-headed, irreverent youngster. and continued to see Minnie, but when it came to his ears it caused many violent scenes between us, which nearly went the length of blows. We had a quarrel of this sort just before the equinoctial gales in the Spring of the year in which my story begins, and I left the old man with his face hushed and his great bony hands shaking with passion, while I went jauntily off to our usual trysting place. I have often regretted since that I was not more submissive, but how was I to guess the dark things which were to come upon us?
I can remember that day well. Many bit-ter thoughts rose in my heart as I strode along the narrow pathway, cutting savagely at the thistles on either side with my stick. One side of our little estate was bordered by the Combera cliiffs, which rose straight out of the water to the height of a couple of hundred feet. The top of these cliffs was covered with greensward and commanded a noble view on every side. I stretched myself on the turf there and watched the breakers dancing over the Winner sands and listened to the gurgling of the water down beneath me in the caves of the Combera. We faced the western side of the island, and from where I lay I could see the whole stretch of the Irish Sea, right across to where a long hazy line upon the horizon marked the northern coast of the sister isle. The wind was blowing freshly from the northwest, and the great Atlantic rollers were racing rnerrily in, one behind another. dark brown below, light green above. and breaking with a sullen roar at the base of the cliffs. Now and again a sluggish one would be overtaken by its successor, and the two would come crashing in together and send the spray right over me as I lay. The whole air was prickly with the smack of the sea. Away to the north there was a piling up of clouds, and the peak of Goatfell in Arran looked lurid and distinct. There were no craft in the oiiing except one little eager, panting steamer making for the shelter of the Clyde, and a trim brigantine tacking along the coast. I was speculating as to her destination when I heard a light, springy footstep, and Minnie Fullarton was standing beside me, her face rosy with exercise and her brown hair floating behind her.
"Wha's been vexing you, Archie?" she asked with the quick intuition of womanhood. "The auld man has been spealing aboot me again; has no'?"
It was strange how pretty and mellow the accents were in her mouth which came so raspingly from my father. We sat down on a little green hillock together, her hand in mine, while I told her of our quarrel in the morning.
"You see, they're bent on parting us," I said; "but, indeed, they"ll find they have the wrong man to deal with if they try to frighten me away from you."
"I'm no' worth it, Archiie," she answered, slghing. "I'm ower hamely and simple for one like you that speaks well and is a scholar forbye."
"You're too good and true for any one, Minne," I answered, though in my heart I thought there was some truth in what she said.
"I'Il no' trouble any one lang," she continued, looking earnestly into my face. " I got my call last nicht; I saw a ghaist, Archie."
"Saw a ghost!" I ejaculated.
"Yes, and I doubt it was a call for me. When my cousin Steevie deed he saw one the same way."
"Tell me about it, dear," I said, impressed by her solemnity.
"There's no much to tell: It was last nicht aboot twelve, or maybe one o'clock. I was lying awake thinking o' this and that wi' my een fixed on the window. Suddenly I saw a face looking in at me through the glass—an awfu'-like face, Archie. lt was na the face of any one on the island. I canna tell what it was like—it was just awfu'. lt was there may be a minute looking tae way and tither into the room. I could see the glint o' his very een —for it was a man's face—and his nose was white where it was pressed against the glass. My very blood ran cauld and I couldna scream for fright. The it went awa' as quickly and as sudden as it came."
"Who could it have been?" I exclaimed.
"A wraith or a bogle," said Minnie, positively.
"Are you sure it wasn't Tammy Gibbs?" I suggested.
"Na, na, it wasna Tammy. It was a dark, hard, dour sort of face."
"Well," I said, laughing, "I hope the fellow will give me a look up, whoever he is. l'll soon learn who he is and where he comes from. But we won't talk of it, or you'll be frightening yourself to-night again. It'll be a dreary night as it is."
"A bad nicht for the puir sailors," she answered, sadly, glancing at the dark wrack hurrying up from the northward, and at the white line of breakers on the Winner sands. "I wonder what yon brig is after? Unless it gets roond to Lamlash or Brodick Bay it'll find itself on a nasty coast."
She was watching the trim brigantine which had already attracted my attention. She was still standing off the coast, and evidently expected rough weather, for her foresail had been taken in and her topsail reefed down.
"It's too cold for you up here!" I exclaimed at last, as the clouds covered the sun, and the keen north wind came in more frequent gusts. \We walked back together, until we were close to Carracuil, when she left me, taking the footpath to Corriemains, which was about a mile from our bothy. I hoped that my father had not observed us together. but he met me at the door, foaming with passion. His face was quite livid with rage, and he held his shotgun in his hands. I forget if I mentioned that in spite of his age he was one lof the most powerful men I ever met in my life.
"So you've come!" he roared, shaking the gun at me. " You great gowk —" I did not wait for the string of adjectives which I knew was coming.
"You keep a civil tongue in your head," I said.
"You dare !" he shouted, raising his arm as if to strike me. " You wunna come in here. You can gang back where you come frae!"
"You can go to the devil!" I answered, losing my temper completely, on which he jabbed at me with the butt end of the gun, but I warded it off with my stick. For a moment the devil was busy in me, and my throat was full of oaths, but I choked them clown, and, turning on my heel, walked back to Corriemains, where I spent the day with the Fullartons. It seemed to me that my father, who had long been a miser, was rapidly becoming a madman—and a dangerous one to boot.