BIRTHDAY GIFTS FOR A CHILD POEM by Adelaide Anne Procter
Poetry from A Chaplet of Verses.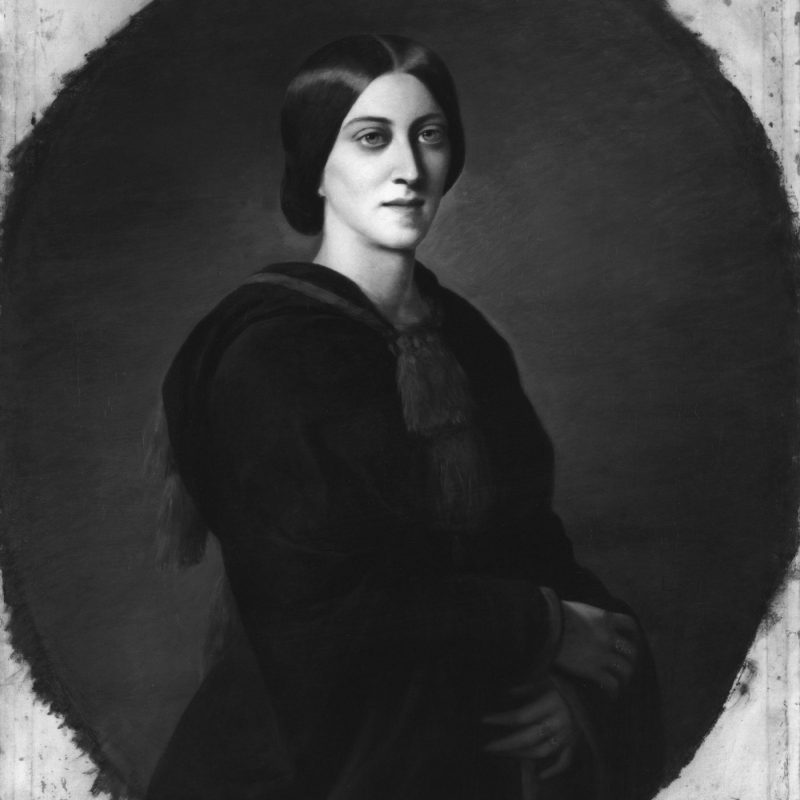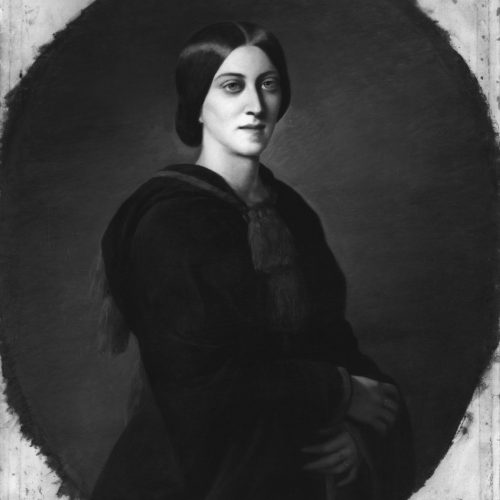 ADELAIDE ANNE PROCTER – BIRTHDAY GIFTS FOR A CHILD POEM
-I-
WHY do you look sad, my Minnie?
Tell me darling—for to-day
Is the birthday of Our Lady,
And Her children should be gay.
-II-
What?—You say that all the others,
Alice, Cyril, Effie, Paul,
All had got a gift to give Her,
Only you had none at all.
-III-
Well dear, that does seem a pity:
Tell me how it came about
That the others bring a present,
And my Minnie comes without.
-IV-
Alice has a lovely Banner
All embroidered blue and gold:
Then you know that Sister Alice
Is so clever and so old.
-V-
Cyril has his two camellias;
One deep red, and one pure white:
They will stand at Benediction
On the Altar steps to-night.
-VI-
Effie, steady little Effie,
Stitching many an hour away,
She has clothed a little orphan
All in honour of to-day.
-VII-
With the skill the good Nuns taught her
Angela herself has made
Two tall stems of such real lilies,
They do all but smell—and fade.
-VIII-
Then with look of grave importance
Comes our quiet little Paul
With the myrtle from his garden:
He himself is not as tall.
-IX-
Even Baby Agnes, kneeling
With half shy, half solemn air,
Held up one sweet rose to Mary,
Lisping out her tiny prayer.
-X-
Well my Minnie—say—how was it?
Shall I guess?   I think I know
All the griefs.   Well, I will count them—
First your rose-tree would not blow;
-XI-
Then the fines have been so many
All the pennies melt away;
Then for work—I know my Minnie
Cares so very much for play,
-XII-
That these little clumsy fingers
Scarcely yet have learnt to sew,
Still less all the skilful fancies
Angela and Alice know.
-XIII-
Yet my Minnie can't be treated
Quite as Baby was to-day,
When Mamma or Alice gave her
Something just to give away.
-XIV-
Well my darling, there are many
Who have neither time nor skill,
Gold nor silver, yet they offer
Gifts to Mary if they will.
-XV-
There are ways—our Lady knows them,
And Her children all should know
How to find a flower for Mary
Underneath the deepest snow;
-XVI-
How to make a lovely garland,
Winter though it be and cold;
How to buy the rarest offering,
Costing—something—but not gold;
-XVII-
How to buy, and buy it dearly,
Gifts that She will love to take;
Nor to grudge the cost, but give it
Cheerfully for Mary's sake.
-XVIII-
Does that seem so strange, my Darling?
Nay dear, it is nothing new;
All can give Her noble presents—
Shall I tell you of a few?
-XIX-
What were those the Magi offered
Frankincense and gold and myrrh:—
Minnie thinks that Saints and Monarchs
Are quite different from her!
-XX-
. . . Sometimes it is hard to listen
To a word unkind or cold
And to smile a loving answer:
Do it—and you give Her gold.
-XXI-
Thoughts of Her in work or playtime—
Those small grains of incense rare,
Cast upon a burning censer,
Rise in perfumed clouds of prayer.
-XXII-
There are sometimes bitter fancies,
Little murmurs that will stir
Even a loving heart:—but crush them
And you give Our Lady myrrh.
-XXIII-
Give your little crosses to her,
Which each day, each hour befall,
They remind Her of Her Jesus,
So she loves them best of all.
-XXIV-
Some seem very poor and worthless,
Yet however small and slight,
Given to her by one who loves her
They are precious in Her sight.
-XXV-
One may be so hard to carry
That your hands will bleed and smart:—
Go and take it to Her Altar,
Go and place it in Her heart;    
-XXVI-
Check your tears and try to love it,
Love it as His sacred will—
So you set the cross with jewels,
Make your gift more precious still.
-XXVII-
There are souls—alas! too many
Who forget that Jesus died,
Who forget that sin for ever
Is the lance to pierce His side.
-XXVIII-
Hearts that turn away from Jesus;
Sins that scourge Him and betray;
Cold and cruel souls that even
Crucify Him day by day.
-XXIX-
Ah! poor sinners!   Mary loves them,
And she knows no royal gem
Half so noble or so precious
As the prayer you say for them;
-XXX-
Or resign some little pleasure,
Give it her instead, to win
Help for some poor soul in peril,
Grace for some poor heart in sin,
-XXXI-
Mercy for poor sinners—pleading
For their souls as for your own—
So you make a crown of jewels
Fit to lay before Her throne.
-XXXII-
Flowers—why I should never finish
If I tried to count them too—
If I told you how to know them,
In what garden-plot they grew.
-XXXIII-
Yet I think my darling guesses
They are emblems and we trace
In the rarest and the loveliest
Acts of love and gifts of grace.
-XXXIV-
Modest violets—meek snowdrops,
Holy lilies white and pure,
Faithful tendrils—herbs for healing—
If they only would endure!
-XXXV-
And they will—such flowers fade not;
They are not of mortal birth—
And such garlands given to Mary
Die not like the gifts of Earth.
-XXXVI-
Well, my Minnie—can you tell me
You have still no gift to lay
At the feet of your dear Mother,
Any hour, any day?
-XXXVII-
Give Her now—to-day—for ever,
One great gift—the first, the best—
Give your heart to Her, and ask
Her How to give Her all the rest.
Adelaide Anne Procter – A Chaplet of Verses