The Captain of the School by James Matthew Barrie
From A Holiday in Bed and Other Sketches by J. M. Barrie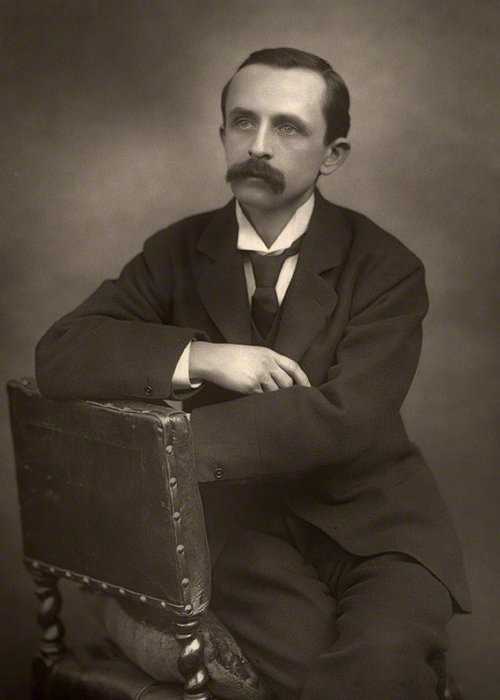 The Captain of the School
When Peterkin, who is twelve, wrote to us that there was a possibility ("but don't count on it," he said) of his bringing the captain of the school home with him for a holiday, we had little conception what it meant. The captain we only knew by report as the "man" who lifted leg-balls over the pavilion and was said to have made a joke to the head-master's wife. By-and-by we understood the distinction that was to be conferred on us. Peterkin instructed his mother to send the captain a formal invitation addressed "J. Rawlins, Esq." This was done, but in such a way that Peterkin feared we might lose our distinguished visitor. "You shouldn't have asked him for all the holidays," Peterkin wrote, "as he has promised a heap of fellows." Then came a condescending note from the captain, saying that if he could manage it he would give us a few days. In this letter he referred to Peterkin as his young friend. Peterkin wrote shortly afterwards asking his sister Grizel to send him her photograph. "If you haven't one," he added, "what is the color of your eyes?" Grizel is eighteen, which is also, I believe, the age of J. Rawlins. We concluded that the captain had been sounding Peterkin about the attractions that our home could offer him; but Grizel neither sent her brother a photograph nor any account of her personal appearance. "It doesn't matter," Peterkin wrote back; "I told him you were dark." Grizel is rather fair, but Peterkin had not noticed that.
Up to the very last he was in an agony lest the captain should disappoint him. "Don't tell anybody he is coming," he advised us, "for, of course, there is no saying what may turn up." Nevertheless the captain came and we sent the dog-cart to the station to meet him and Peterkin. On all previous occasions one of us had gone to the station with the cart; but Peterkin wrote asking us not to do so this time. "Rawlins hates any fuss," he said.
Somewhat to our relief, we found the captain more modest than it would have been reasonable to expect. "This is Rawlins," was Peterkin's simple introduction; but it could not have been done with more pride had the guest been Mr. W. G. Grace himself. One thing I liked in Rawlins from the first: his consideration for others. When Peterkin's mother and sister embraced that boy on the doorstep, Rawlins pretended not to see. Peterkin frowned, however, at this show of affection, and with a red face looked at the captain to see how he took it. With much good taste, Peterkin said nothing about this "fuss" on the doorstep, and I concluded that he would let it slide. It has so far been a characteristic of that boy that he can let anything which is disagreeable escape his memory. This time, however, as I subsequently learned he had only bottled up his wrath to pour it out upon his sister. Finding her alone in the course of the day, he opened his mind by remarking that this was a nice sort of thing she had done, making a fool of him before another fellow. Asked boldly—for Grizel can be freezing on occasion not only to her own brother, but to other people's brothers—what he meant, Peterkin inquired hotly if she was going to pretend that she had not kissed him in Rawlins' presence. Grizel replied that if Rawlins thought anything of that he was a nasty boy; at which Peterkin echoed "boy" with a grim laugh, and said he only hoped she would see the captain some day when the ground suited his style of bowling. Grizel replied contemptuously that the time would come when both Peterkin and his disagreeable friend would be glad to be kissed; upon which her brother flung out of the room, warmly protesting that she had no right to bring such charges against fellows.
Though Grizel was thus a little prejudiced against the captain, he had not been a day in the house when we began to feel the honor that his visit conferred on us. He was modest almost to the verge of shyness; but it was the modesty that is worn by a man who knows he can afford it. While Peterkin was there Rawlins had no need to boast, for Peterkin did the boasting for him. When, however, the captain exerted himself to talk, Peterkin was contented to retire into the shade and gaze at him. He would look at all of us from his seat in the background, and note how Rawlins was striking us. Peterkin's face as he gazed upon that of the captain went far beyond the rapture of a lover singing to his mistress's eyebrow. He fetched and carried for him, anticipated his wants as if Rawlins were an invalid, and bore his rebukes meekly. When Rawlins thought that Peterkin was speaking too much, he had merely to tell him to shut up, when Peterkin instantly collapsed. We noticed one great change in Peterkin. Formerly, when he came home for the holidays he had strongly objected to making what he called drawing-room calls, but all that was changed. Now he went from house to house, showing the captain off. "This is Rawlins," remained his favorite form of introduction. He is a boy who can never feel comfortable in a drawing-room, and so the visits were generally of short duration. They had to go because they were due in another house in a quarter of an hour, or he had promised to let Jemmy Clinker, who is our local cobbler and a great cricketer, see Rawlins. When a lady engaged the captain in conversation, Peterkin did not scruple to sign to her not to bother him too much; and if they were asked to call again, Peterkin said he couldn't promise. There was a remarkable thing the captain could do to a walking stick, which Peterkin wanted him to do everywhere. It consisted in lying flat on the floor and then raising yourself in an extraordinary way by means of the stick. I believe it is a very difficult feat, and the only time I saw our guest prevailed upon to perform it he looked rather apoplectic. Sometimes he would not do it, apparently because he was not certain whether it was a dignified proceeding. He found it very hard, nevertheless, to resist the temptation, and it was the glory of Peterkin to see him yield to it. From certain noises heard in Peterkin's bedroom it is believed that he is practicing the feat himself.
Peterkin, you must be told, is an affectionate boy, and almost demonstrative to his relatives if no one is looking. He was consequently very anxious to know what the captain thought of us all, and brought us our testimonials as proudly as if they were medals awarded for saving life at sea. It is pleasant to me to know that I am the kind of governor Rawlins would have liked himself, had he required one. Peterkin's mother, however, is the captain's favorite. She pretended to take the young man's preference as a joke when her son informed her of it, but in reality I am sure she felt greatly relieved. If Rawlins had objected to us it would have put Peterkin in a very awkward position. As for Grizel, the captain thinks her a very nice little girl, but "for choice," he says (according to Peterkin) "give him a bigger woman." Grizel was greatly annoyed when he told her this, which much surprised him, for he thought it quite as much as she had any right to expect. On the whole, we were perhaps rather glad when Rawlins left, for it was somewhat trying to live up to him. Peterkin's mother, too, has discovered that her boy has become round-shouldered. It is believed that this is the result of a habit he acquired when in Rawlins's company of leaning forward to catch what people were saying about the captain.