Sir James Matthew Barrie, 1st Baronet
Born May 9th, 1860, Kirriemuir, Angus, Scotland
Died June 19th, 1937, London, England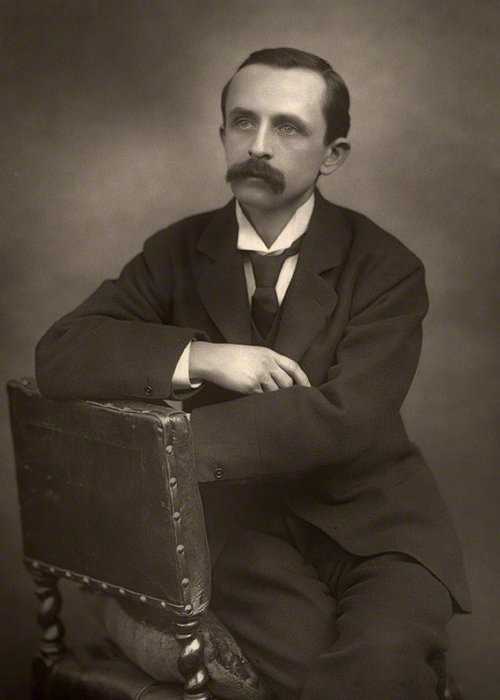 Dramatist and novelist who is best known as the creator of Peter Pan, the boy who refused to grow up.
The son of a weaver, Barrie never recovered from the shock he received at six from a brother's death and its grievous effect on his mother, who dominated his childhood and retained that dominance thereafter. Throughout his life Barrie wished to recapture the happy years before his mother was stricken, and he retained a strong childlike quality in his adult personality.
Barrie studied at the University of Edinburgh and spent two years on the Nottingham Journal before settling in London as a free-lance writer in 1885. His first successful book, Auld Licht Idylls (1888), contained sketches of life in Kirriemuir, and the stories in A Window in Thrums (1889) continue to explore that setting. The Little Minister (1891), a highly sentimental novel in the same style, was a best-seller, and after its dramatization in 1897, Barrie wrote mostly for the theatre.
His autobiographical novels When a Man's Single (1888) and Sentimental Tommy (1896) both feature a little boy in Kirriemuir ("Thrums") who weaves a cloak of romantic fiction between himself and reality and becomes a successful writer.
Most of these early works are marked by quaint Scottish dialect, whimsical humour and comic clowning, pathos, and sentimentality.
Barrie's marriage in 1894 to the actress Mary Ansell was childless and apparently unconsummated. In 1897 he formed an attachment to Sylvia Llewellyn Davies, and it was to her sons, through whom he began to live again the experience of childhood, that he told his first Peter Pan stories, some of which were published in The Little White Bird (1902).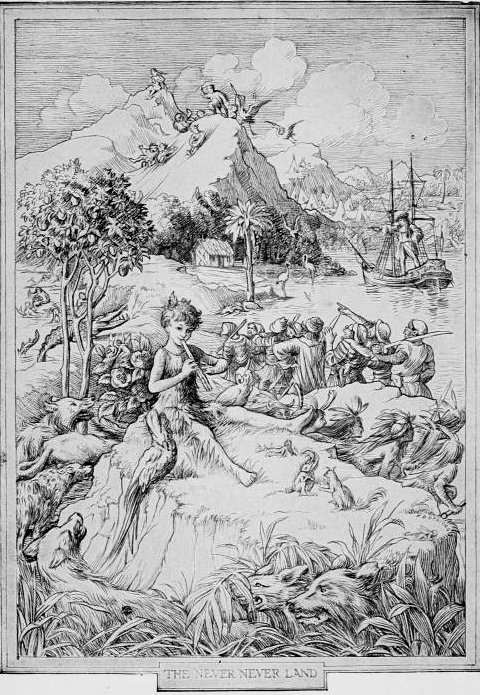 The play Peter Pan, the Boy Who Wouldn't Grow Up, was first produced in 1904 at the Duke of York's Theatre on St Martin's Lane, in the City of Westminster, London. This play added a new character to the mythology of the English-speaking world in the figure of Peter Pan, and its theme of heroic boyhood triumphant over the seedy, middle-aged pirate Captain Hook has proved to have a lasting appeal.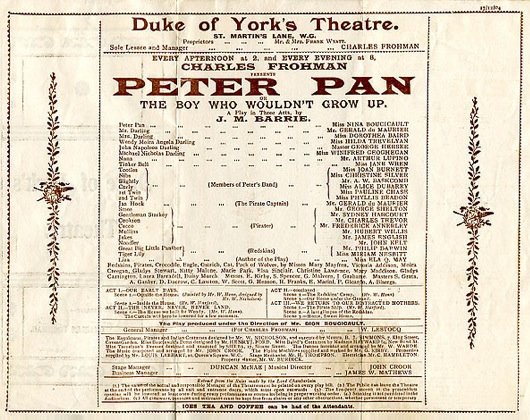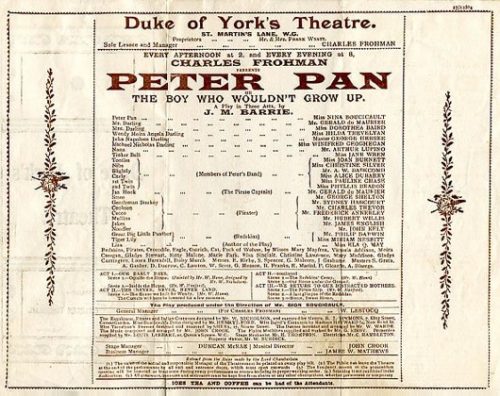 Barrie's idyll of re-experienced boyhood was followed by tragedy. His marriage ended in divorce in April 1910; Sylvia Davies, then a widow, died four months later; and two of her sons, to whom Barrie acted as guardian, were killed.
Barrie was made a baronet in 1913 and was awarded the Order of Merit in 1922.
He became president of the Society of Authors in 1928 and chancellor of the University of Edinburgh in 1930.
Most of Barrie's stage triumphs are marred by ephemeral whimsicalities, but at least six of his plays- Quality Street (1901), The Admirable Crichton (1902), What Every Woman Knows (1908), The Twelve-Pound Look (1910), The Will (1913), and Dear Brutus (1917) are of indisputably high quality and worthy additions to the Classic Literature Library.
Barrie idealized childhood, but took a disenchanted view of adult life, as reflected in the gentle melancholy of these works. Sometimes he expressed his disenchantment humorously, as in The Admirable Crichton, in which a butler becomes the king of a desert island, with his former employers as serfs; sometimes satirically, as in The Twelve-Pound Look; and sometimes tragically, as in Dear Brutus, in which nine men and women whose lives have come to grief are given a magical second chance, only to wreck themselves again on the reefs of their own temperaments.
The elaborate stage directions in Barrie's plays are sometimes more rewarding than their dialogue itself. Barrie proved himself a master of stage effects and of the delineation of character, but the sentimental and whimsical elements in his work continue to cloud his reputation.
Sir James Barrie Works
Better Dead (1887)
Auld Licht Idylls (1888)
An Edinburgh Eleven (1888)
When a Man's Single (1888)
A Window in Thrums (1889)
My Lady Nicotine (1890), republished in 1926 with the subtitle A Study in Smoke
The Little Minister (1891)
Richard Savage (1891)
Ibsen's Ghost (Toole Up-to-Date) (1891)
The Inconsiderate Waiter (1891)
A Holiday in Bed and Other Sketches (1892)
– Life in a Country Manse
– Life in a Country Manse — A Wedding in a Smiddy
– A Powerful Drug
– Every Man His own Doctor
– Gretna Green Revisited
– My Favorite Authoress
– The Captain of the School
– Thoughtful Boys Make Thoughtful Men
– It
– To the Influenza
– Four-in-Hand Novelists
– Rules on Carving
– On Running After a Hat
Walker, London (1892)
Jane Annie Opera, music by Ernest Ford, libretto by Barrie and Arthur Conan Doyle (1893)
A Powerful Drug and Other Stories (1893)
A Tillyloss Scandal (1893)
Two of Them (1893)
A Lady's Shoe (1894)
Life in a Country Manse (1894)
Scotland's Lament: A Poem on the Death of Robert Louis Stevenson (1895)
Sentimental Tommy, The Story of His Boyhood (1896)
Margaret Ogilvy (1896)
Tommy and Grizel (1900)
The Wedding Guest (1900)
The Boy Castaways of Black Lake Island (1901)
Quality Street (play) (1901)
The Admirable Crichton (play) (1902)
The Little White Bird, or Adventures in Kensington Gardens (1902)
Little Mary (1903)
Peter Pan (staged 1904)
Alice Sit-by-the-Fire (play) (1905)
Pantaloon (1905)
Peter Pan in Kensington Gardens (1906)
What Every Woman Knows (play) (1908)
When Wendy Grew Up – An Afterthought (1908)
Peter and Wendy (novel) (1911)
Neither Dorking Nor The Abbey (1912)
Half Hours (1914) includes:
– Pantaloon
– The Twelve-Pound Look
– Rosalind
– The Will
Der Tag (The Tragic Man) (Short play) (1914)
Charles Frohman: A Tribute (1915)
A Kiss for Cinderella (1916)
Shakespeare's Legacy (1916)
Dear Brutus (1917) (play)
Echoes of the War (1918) Four plays, includes:
– The New Word
– The Old Lady Shows Her Medals (basis for the movie Seven Days Leave (1930), starring Gary Cooper)
– A Well-Remembered Voice
– Barbara's Wedding
Mary Rose (1920)
The Twelve-Pound Look (1921)
Courage (1922)
The Author (1925)
Cricket (1926)
Shall We Join the Ladies? (1928) includes:
– Shall We Join the Ladies?
– Half an Hour
– Seven Women
– Old Friends
Peter Pan (stage play published) (1928)
The Greenwood Hat (1930)
Farewell Miss Julie Logan (1932)
The Boy David (1936)
M'Connachie and J. M. B. (1938)
When Wendy Grew Up: An Afterthought (1957)
The Earliest Plays of J. M. Barrie: Bandelero the Bandit, Bohemia and Caught Napping, edited by R.D.S. Jack (2013)