The Fate of Fenella a Novel by 24 Authors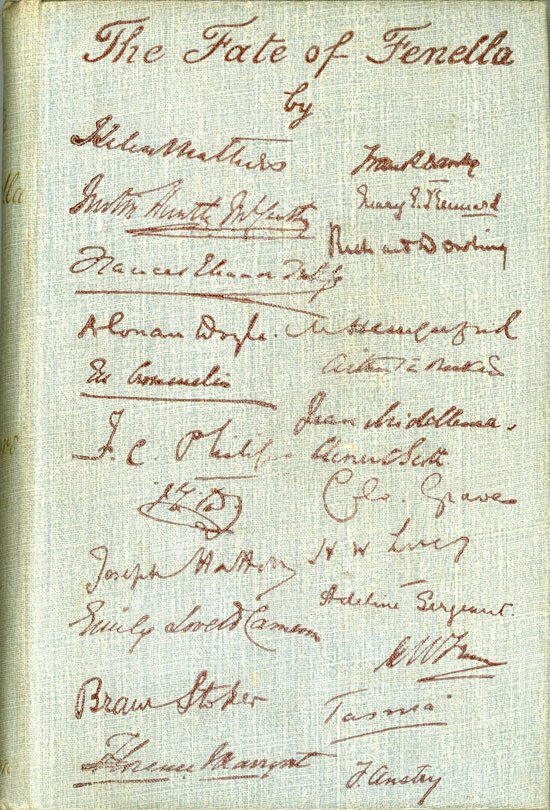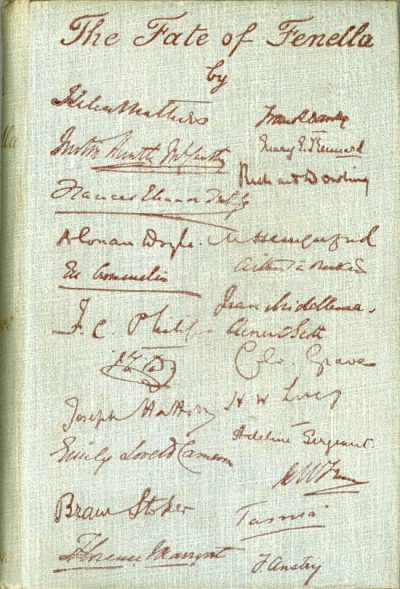 The Fate of Fenella
A Novel
By
Helen Mathers
Justin H. McCarthy, M. P.
Frances Eleanor Trollope
A. Conan Doyle
May Crommelin
F. C. Phillips
"Rita"
Joseph Hatton
Mrs. Lovett Cameron
Bram Stoker
Florence Marryat
Frank Danby
Mrs. Edward Kennard
Richard Dowling
Mrs. Hungerford
Arthur A'Beckett
Jean Middlemass
Clement Scott
Clo. Graves
H. W. Lucy
Adeline Sergeant
G. Manville Fenn
"Tasma"
F. Anstey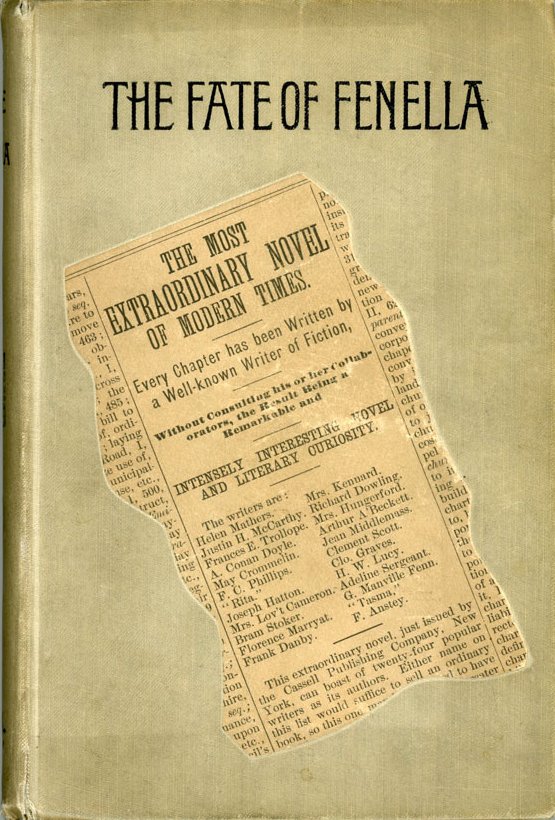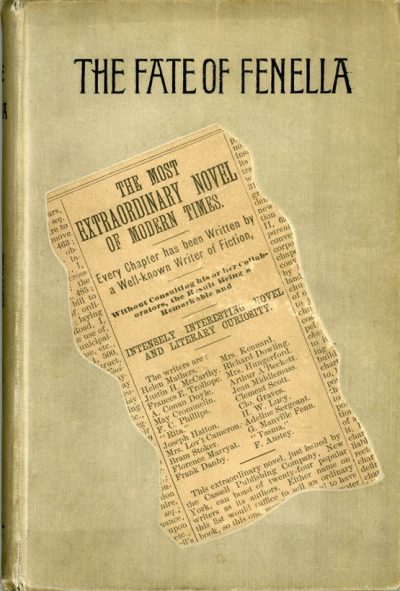 NEW YORK

CASSELL PUBLISHING COMPANY

104 & 106 Fourth Avenue

Copyright, 1892, by

CASSELL PUBLISHING COMPANY.

All rights reserved.

THE MERSHON COMPANY PRESS,
KAHWAY, N. J.
Publishers Note.
The publishers claim with no little satisfaction that in this book they offer the reading public a genuine novelty. The idea of a novel written by twenty-four popular writers is certainly an original one. The ladies and gentlemen who have written "The Fate of Fenella" have done their work quite independently of each other. There has been collaboration but not consultation. As each one wrote a chapter it was passed on to the next, and so on until it reached the hands of Mr. F. Anstey, whose peculiar and delightful humor made him a fitting choice for bringing the story to a satisfactory close.
The Fate of Fenella Contents
Helen Mathers – The Fate of Fenella Chapter I : Fenella
Justin McCarthy – The Fate of Fenella Chapter II : Kismet
Frances Eleanor Trollope – The Fate of Fenella Chapter III : How it Strikes a Contemporary
Arthur Conan Doyle – The Fate of Fenella Chapter IV : Between Two Fires
May Crommelin – The Fate of Fenella Chapter V : Complications
F. C. Phillips – The Fate of Fenella Chapter VI : A Woman's View of the Matter
"Rita" – The Fate of Fenella Chapter VII : So Near – So Far Away
Joseph Hatton – The Fate of Fenella Chapter VIII : The Tragedy
Mrs. Lovett Cameron – The Fate of Fenella Chapter IX : Free Once Again
Bram Stoker – The Fate of Fenella Chapter X : Lord Castleton Explains
Florence Marryat – The Fate of Fenella Chapter XI : Madame de Vigny's Revenge
"Frank Danby" – The Fate of Fenella Chapter XII : To Live or Die?
Mrs. Edward Kennard – The Fate of Fenella Chapter XIII : The Scars Remained
Richard Dowling – The Fate of Fenella Chapter XIV : Derelict
Mrs. Hungerford – The Fate of Fenella Chapter XV : Another Rift
Arthur à Beckett – The Fate of Fenella Chapter XVI : In New York
Jean Middlemass – The Fate of Fenella Chapter XVII : Confined in a Madhouse
Clement Scott – The Fate of Fenella Chapter XVIII : Within Sight of Home
Clo. Graves – The Fate of Fenella Chapter XIX : A Vision from the Sea
H. W. Lucy – The Fate of Fenella Chapter XX : Through Fire and Water
Adeline Sergeant – The Fate of Fenella Chapter XXI : Alive or Dead?
George Manville Fenn – The Fate of Fenella Chapter XXII : Retribution
"Tasma" – The Fate of Fenella Chapter XXIII : Sick Unto Death
"F. Anstey" – The Fate of Fenella Chapter XXIV: Whom The Gods Hate Die Hard