The Marriage Hoax : Famous Impostors by Bram Stoker
Famous Impostors : Hoaxes The Marriage Hoax
by
Bram Stoker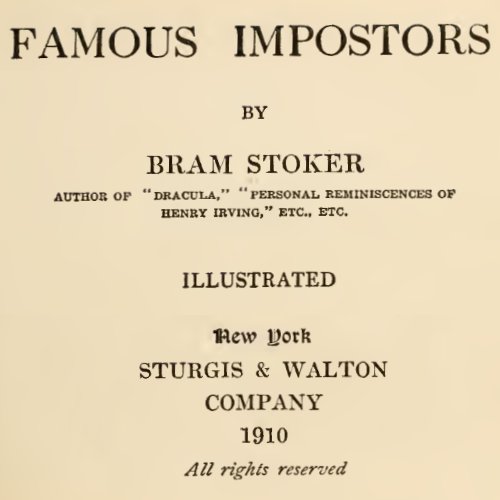 The Marriage Hoax
Hoaxes are sometimes malicious, and often cruel, as the following instance will show:
A young couple were about to be married in Birmingham when those officiating—it was a Jewish wedding—were startled by the delivery of a telegram from London with the message:
"Stop marriage at once. His wife and children have arrived in London and will come on to Birmingham."
The bride fainted and the bridegroom was frantically perturbed at thus summarily being provided with a wife and family. But it was useless; the unhappy man had to make the best of his way through an exasperated crowd full of sympathy for the wronged girl.
Inquiry, however, showed her friends that the whole thing was a hoax—possibly worked by some revengeful rival of the man whose happiness had been so unexpectedly deferred.
Chapter I. Pretenders
A. Perkin Warbeck
B. The Hidden King
C. Stephan Mali
D. The False Dauphins
E. Princess Olive
Chapter II. Practitioners of Magic
A. Paracelsus
B. Cagliostro
C. Mesmer
Chapter III.
The Wandering Jew
Chapter IV.
John Law
Chapter V. Witchcraft and Clairvoyance
A. Witches
B. Doctor Dee
C. La Voisin
D. Sir Edward Kelley
E. Mother Damnable
F. Matthew Hopkins
Chapter VI.
Arthur Orton (Tichborne claimant)
Chapter VII. Women as Men
A. The Motive for Disguise
B. Hannah Snell
C. La Maupin
D. Mary East
Chapter VIII. Hoaxes, etc.
A. Two London Hoaxes
B. The Cat Hoax
C. The Military Review
D. The Toll-Gate
E. The Marriage Hoax
F. Buried Treasure
G. Dean Swift's Hoax
H. Hoaxed Burglars
I. Bogus Sausages
J. The Moon Hoax
Chapter IX.
Chevalier d'Eon
Chapter X.
The Bisley Boy