Beacon Lights of History, Volume XI : American Founders by John Lord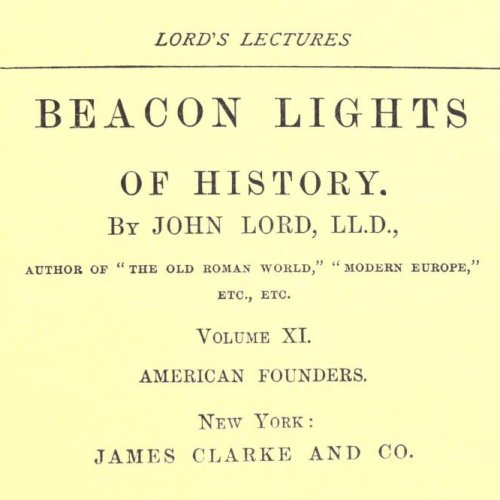 Beacon Lights of History, Volume XI : American Founders
by
John Lord
Beacon Lights of History, Volume XI : American Founders Contents
Preliminary Chapter : The American Idea
Benjamin Franklin : Diplomacy
George Washington : The American Revolution
Alexander Hamilton : American Constitution
John Adams : Constructive Statesmanship
Thomas Jefferson : Popular Sovereignty
John Marshall : The United States Supreme Court
Publishers' Preface.
Dr. Lord's volume on "American Statesmen" was written some years after the issue of his volume on "Warriors and Statesmen," which was Volume IV of his original series of five volumes. The wide popular acceptance of the five volumes encouraged him to extend the series by including, and rewriting for the purpose, others of his great range of lectures. The volume called "Warriors and Statesmen" (now otherwise distributed) included a number of lectures which in this new edition have been arranged in more natural grouping. Among them were the lectures on Hamilton and Webster. It has been deemed wise to bring these into closer relation with their contemporaries, and thus Hamilton is now placed in this volume, among the other "American Founders," and Webster in the volume on "American Leaders."
Of the "Founders" there is one of whom Dr. Lord did not treat, yet whose services–especially in the popular confirmation of the Constitution by the various States, and notably in its fundamental interpretation by the United States Supreme Court–rank as vitally important. John Marshall, as Chief Justice of that Court, raised it to a lofty height in the judicial world, and by his various decisions established the Constitution in its unique position as applicable to all manner of political and commercial questions–the world's marvel of combined firmness and elasticity. To quote Winthrop, as cited by Dr. Lord, it is "like one of those rocking-stones reared by the Druids, which the finger of a child may vibrate to its centre, yet which the might of an army cannot move from its place."
So important was Marshall's work, and so potent is the influence of the United States Supreme Court, that no apology is needed for introducing into this volume on our "Founders" a chapter dealing with that great theme by Professor John Bassett Moore, recently Assistant Secretary of State; later, Counsel for the Peace Commission at Paris; and now occupying the chair of International Law and Diplomacy in the School of Political Science, Columbia University, New York City.
NEW YORK, September, 1902.
Beacon Lights of History, Volume XI : American Founders Contents
Preliminary Chapter : The American Idea
Benjamin Franklin : Diplomacy
George Washington : The American Revolution
Alexander Hamilton : American Constitution
John Adams : Constructive Statesmanship
Thomas Jefferson : Popular Sovereignty
John Marshall : The United States Supreme Court
Beacon Lights of History
Beacon Lights of History, Volume I : The Old Pagan Civilizations
Beacon Lights of History, Volume II : Jewish Heroes and Prophets
Beacon Lights of History, Volume III : Ancient Achievements
Beacon Lights of History, Volume IV : Imperial Antiquity
Beacon Lights of History, Volume V : The Middle Ages
Beacon Lights of History, Volume VI : Renaissance and Reformation
Beacon Lights of History, Volume VII : Great Women
Beacon Lights of History, Volume VIII : Great Rulers
Beacon Lights of History, Volume IX : European Statesmen
Beacon Lights of History, Volume X : European Leaders
Beacon Lights of History, Volume XI : American Founders
Beacon Lights of History, Volume XII : American Leaders
Beacon Lights of History, Volume XIII : Great Writers
Beacon Lights of History, Volume XIV : The New Era