Beacon Lights of History, Volume XII : American Leaders by John Lord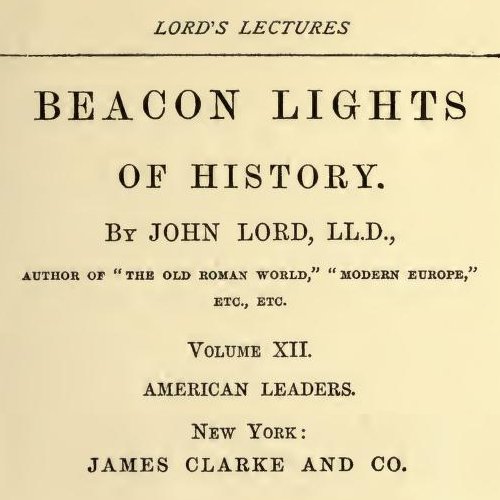 Beacon Lights of History, Volume XII : American Leaders
by
John Lord
Beacon Lights of History, Volume XII : American Leaders Contents
Andrew Jackson : Personal Politics
Henry Clay : Compromise Legislation
Daniel Webster : The American Union
John C. Calhoun : The Slavery Question
Abraham Lincoln : Civil War and Preservation of the Union
Robert E. Lee : The Southern Confederacy
Publishers' Preface.
The remarks made in the preface to the volume on "American Founders" are applicable also to this volume on "American Leaders." The lecture on Daniel Webster has been taken from its original position in "Warriors and Statesmen" (a volume the lectures of which are now distributed for the new edition in more appropriate groupings), and finds its natural neighborhood in this volume with the paper on Clay and Calhoun.
Since the intense era of the Civil War has passed away, and Northerners and Southerners are becoming more and more able to take dispassionate views of the controversies of that time, finding honorable reasons for the differences of opinion and of resultant conduct on both sides, it has been thought well to include among "American Leaders" a man who stands before all Americans as the chief embodiment of the "cause" for which so many gallant soldiers died–Robert E. Lee. His personal character was so lofty, his military genius so eminent, that North and South alike looked up to him while living and mourned him dead. His career is depicted by one who has given it careful study, and who, himself a wounded veteran officer of the Union army, and regarding the Southern cause as one well "lost," as to its chief aims of Secession and protection to Slavery, in the interest of civilization and of the South itself, yet holds a high appreciation of the noble man who is its chief representative. The paper on "Robert E. Lee: The Southern Confederacy," is from the pen of Dr. E. Benjamin Andrews, Chancellor of the University of Nebraska.
NEW YORK, September, 1902.
Beacon Lights of History, Volume XII : American Leaders Contents
Andrew Jackson : Personal Politics
Henry Clay : Compromise Legislation
Daniel Webster : The American Union
John C. Calhoun : The Slavery Question
Abraham Lincoln : Civil War and Preservation of the Union
Robert E. Lee : The Southern Confederacy
Beacon Lights of History
Beacon Lights of History, Volume I : The Old Pagan Civilizations
Beacon Lights of History, Volume II : Jewish Heroes and Prophets
Beacon Lights of History, Volume III : Ancient Achievements
Beacon Lights of History, Volume IV : Imperial Antiquity
Beacon Lights of History, Volume V : The Middle Ages
Beacon Lights of History, Volume VI : Renaissance and Reformation
Beacon Lights of History, Volume VII : Great Women
Beacon Lights of History, Volume VIII : Great Rulers
Beacon Lights of History, Volume IX : European Statesmen
Beacon Lights of History, Volume X : European Leaders
Beacon Lights of History, Volume XI : American Founders
Beacon Lights of History, Volume XII : American Leaders
Beacon Lights of History, Volume XIII : Great Writers
Beacon Lights of History, Volume XIV : The New Era