Beacon Lights of History, Volume XIII : Great Writers by John Lord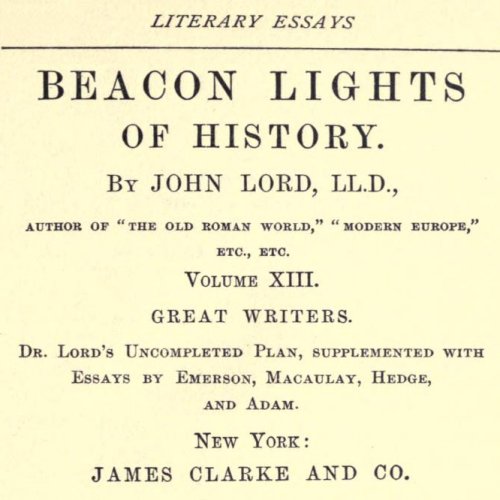 Beacon Lights of History, Volume XIII : Great Writers
by
John Lord
Beacon Lights of History, Volume XIII : Great Writers Contents
Rousseau : Socialism and Education
Sir Walter Scott : The Modern Novel
Lord Byron : Poetic Genius
Thomas Carlyle : Criticism and Biography
Lord Macaulay : Artistic Historical Writing
Shakspeare or The Poet
John Milton : Poet and Patriot
Johann Wolfgang Von Goethe : Germany's Greatest Writer
Alfred Lord Tennyson : The Spirit Of Modern Poetry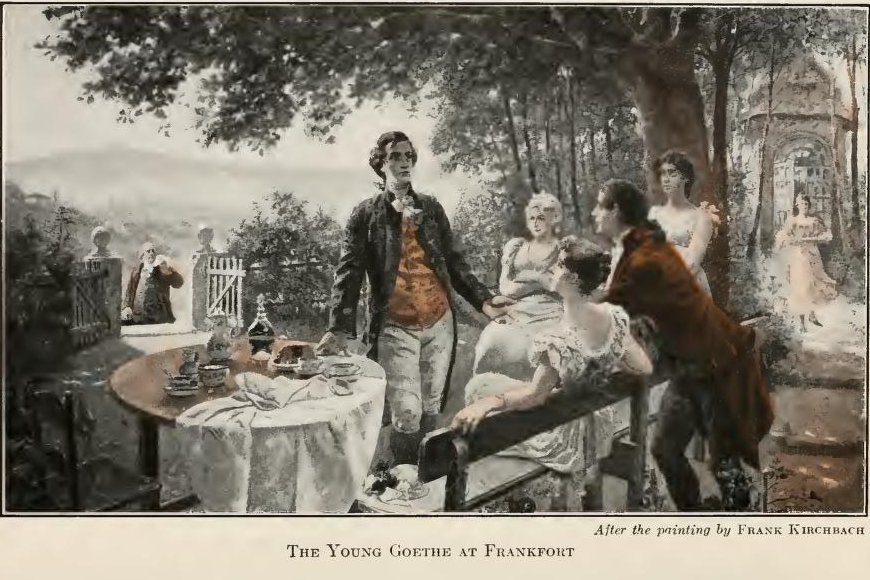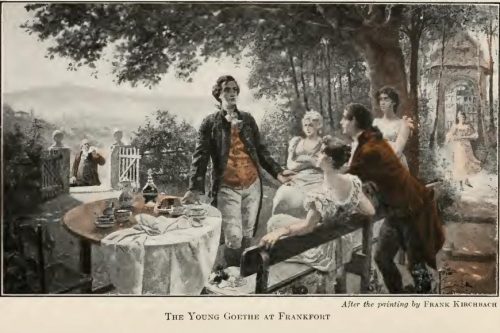 Publishers' Preface
This being the last possible volume in the series of "Beacon Lights of History" from the pen of Dr. Lord, its readers will be interested to know that it contains all the lectures that he had completed (although not all that he had projected) for his review of certain of the chief Men of Letters. Lectures on other topics were found among his papers, but none that would perfectly fit into this scheme; and it was thought best not to attempt any collection of his material which he himself had not deemed worthy or appropriate for use in this series, which embodies the best of his life's work,–all of his books and his lectures that he wished to have preserved. For instance, "The Old Roman World," enlarged in scope and rewritten, is included in the volumes on "Old Pagan Civilizations," "Ancient Achievements," and "Imperial Antiquity;" much of his "Modern Europe" reappears in "Great Rulers," "Modern European Statesmen," and "European National Leaders," etc.
The consideration of "Great Writers" was reserved by Dr. Lord for his final task,–a task interrupted by death and left unfinished. In order to round out and complete this volume, recourse has been had to some other masters in literary art, whose productions are added to Dr. Lord's final writings.
In the present volume, therefore, are included the paper on "Shakspeare" by Emerson, reprinted from his "Representative Men" by permission of Messrs. Houghton, Mifflin & Co., the authorized publishers of Emerson's works; the famous essay on "Milton" by Macaulay; the principal portion–biographical and generally critical–of the article on "Goethe," from "Hours with the German Classics," by the late Dr. Frederic H. Hedge, by permission of Messrs. Little, Brown & Co., the publishers of that work; and a chapter on "Tennyson: the Spirit of Modern Poetry," by G. Mercer Adam.
A certain advantage may accrue to the reader in finding these masters side by side for comparison and for gauging Dr. Lord's unique life-work by recognized standards, keeping well in view the purpose no less than the perfection of these literary performances, all of which, like those of Dr. Lord, were aimed at setting forth the services of selected forces in the world's life.
NEW YORK, September 15, 1902.
Beacon Lights of History, Volume XIII : Great Writers
Rousseau : Socialism and Education
Sir Walter Scott : The Modern Novel
Lord Byron : Poetic Genius
Thomas Carlyle : Criticism and Biography
Lord Macaulay : Artistic Historical Writing
Shakspeare or The Poet
John Milton : Poet and Patriot
Johann Wolfgang Von Goethe : Germany's Greatest Writer
Alfred Lord Tennyson : The Spirit Of Modern Poetry
Beacon Lights of History
Beacon Lights of History, Volume I : The Old Pagan Civilizations
Beacon Lights of History, Volume II : Jewish Heroes and Prophets
Beacon Lights of History, Volume III : Ancient Achievements
Beacon Lights of History, Volume IV : Imperial Antiquity
Beacon Lights of History, Volume V : The Middle Ages
Beacon Lights of History, Volume VI : Renaissance and Reformation
Beacon Lights of History, Volume VII : Great Women
Beacon Lights of History, Volume VIII : Great Rulers
Beacon Lights of History, Volume IX : European Statesmen
Beacon Lights of History, Volume X : European Leaders
Beacon Lights of History, Volume XI : American Founders
Beacon Lights of History, Volume XII : American Leaders
Beacon Lights of History, Volume XIII : Great Writers
Beacon Lights of History, Volume XIV : The New Era